The concept of the album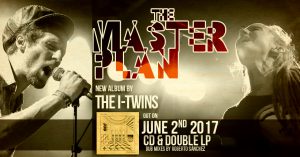 "The Master Plan" refers to a spiritual concept, according to which everything happening in our lives follows
a sort of divine, mysterious and ungraspable plan, but fundamentally good. In some events that we experience, we can perceive signs implying that this was meant to be. At times the plan seems beautiful to us, at times incomprehensible and spiteful.
Why do we say that? For whether we are right or wrong, whether this is a reality or a fantasy, we believe that this vision can enable us to live a more serene life and comprehend our tribulations with philosophy: even though reality may seem revolting to us, accepting it and having faith in life will always give us more positive perspectives and more strength to change what is wrong and unjust, and fight for a better living, for ourselves and for others.
Are violence, war, hatred, misery, injustice, greed, inequality part of this plan? If so, why? Or is it humans who distort a plan which was originally good? No one knows. But to us, this conception of life can make us not only humbler, but also better equipped to be actors of the change.
This is the main idea of the album and that can be found in most of the songs, whether they deal with our relationship to pain, death, important shocks of our lives or love relationships.
Musicians
Camille Chappuis : Vocals
Quentin Chappuis : Vocals and bass
Antonin Chatelain : Drums
Primo Viviani : Bass
Stéphane «Stuf Addis» Lambercy : Bass
Mathias Liengme : Piano, organ, wurlitzer, clavinet, solina, keyboards, percussions and kete
Roberto Sánchez : Solina and percussions
Léo Marin: Riddim guitar
Solal Excoffier : Lead guitare
Michael Borcard : Saxophone (tenor, alto and baritone) and moog
Alexandre Schneiter : Trumpet and backing vocals
Anthony Buclin : Trombone
Julien Plaza : Backing vocals
Jérôme «Jeronimo» Nidegger : Harmonica
Raphael Anker : Electronic trumpet
Credits
Produced by Camille and Quentin Chappuis
Lyrics by Quentin and Camille Chappuis
Music by Camille and Quentin Chappuis, Mathias Liengme et Michael Borcard
Arrangements by Quentin et Camille Chappuis, Alexandre Schneiter, Antonin Chatelain, Mathias Liengme, Michael Borcard, Solal Excoffier and Primo Viviani
Recorded by Mathias Liengme at Bridge Studio (Geneva)
Overdubs by Quentin Chappuis at I-Twins Studio (Geneva), by François Spreng at Lake Mountain Studio (Vevey) and by Roberto Sánchez at A-Lone Ark Muzik Studio (Spain)
Mixed by Roberto Sánchez at A-Lone Ark Muzik Studio (Spain)
Mastered by Sam John at Precise Mastering (Ecosse)
Distributed by Fruits Records
Illustrations by Jeanne Tara
Graphism by Céline Nidegger